nupro is the first protein shake that relies completely on nature. No sweeteners. No whey. Just plants.
includes all essential amino acids

"The taste of the vegan nupro shake is convincing all along the line. It not only gives the Muckis power, but also lasts longer."
"nupro convinces with 100% organic quality and a completely plastic-free packaging."
"Muscle building through sustainable protein shakes. What more could you ask for?"
we don't stop when you're full.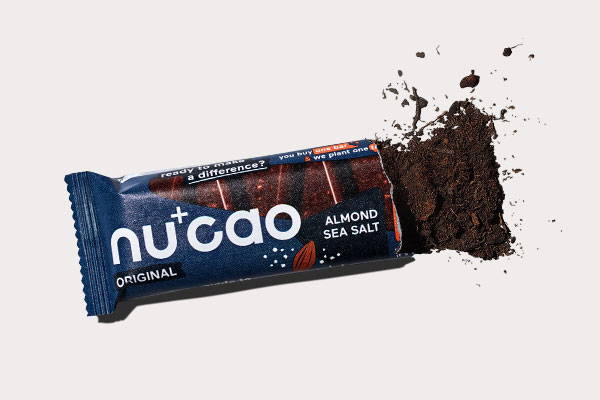 Mangrove forests are crucial in the fight against climate change as they sequester heaps of carbon throughout their lifetime. That's why with every bar you purchase, you plant a mangrove tree in Madagascar or Nepal with our partner Eden Reforestation Projects. Who would have thought planting trees could actually taste good...?
The plastic problem won't disappear, but our wrappers do.
Instead of your run-of-the-mill disposable plastic, we wrap nucao in a home-compostable film made of cellulose. Our wrappers are best disposed of in the home compost, but if you don't have one, no worries! Your residual trash bin will get the job done.

Delicious protein shakes!
Very tasty protein shakes, they don't taste as artificial as they often do. Also vegan and with a great statement from the founders!
- Sandra, online shop customer


Finally a vegan protein powder that, in addition to its super natural taste, also shines with its ingredients, a top consistency and a sustainable mission. I'm not buying anything else and am looking forward for new flavours. 🙂

- Kat, online shop customer

Best protein powder you can find!
Whoever manages to make vegan protein so tasty deserves a great rating. I have a berry blend in my smoothie bowl every morning.

- Leon, online shop customer